Everio MediaBrowser – Integrated PC Software Included

All Everio models come with high-value software that provides everything from file playback, management, as well as easy sharing functions, within a single application. Its calendar type graphical user interface displays thumbnail images of your recordings, superimposed on the date they were taken.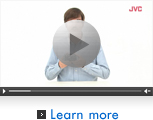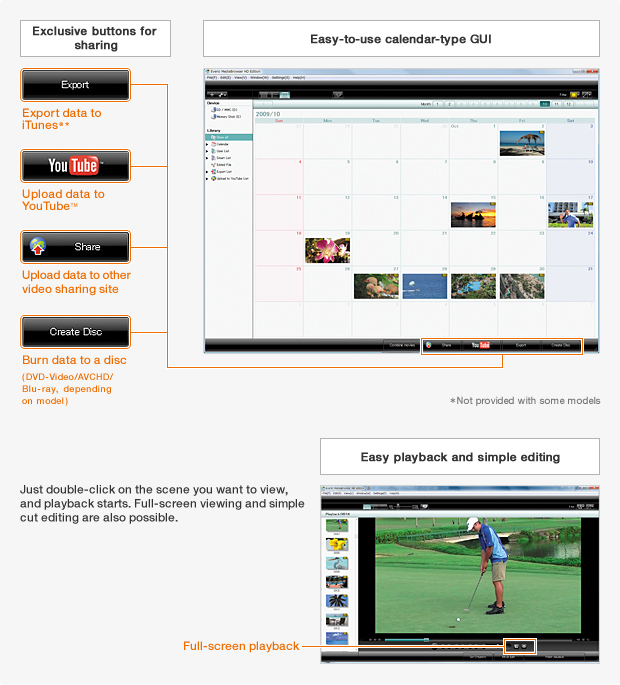 Software System Requirements (Windows®)
OS
Microsoft® Windows® XP SP3, Home Edition/Professional (pre-installed)
Microsoft® Windows Vista® SP2, Home Basic/Home Premium (32-bit/64-bit, pre-installed)
Microsoft® Windows® 7, Home Premium (32-bit/64-bit, pre-installed)
CPU
[HD Edition] Intel® Core™ Duo: at least 1.66GHz, Intel® Core™ 2 Duo: at least 2.13GHz recommended
[SD Edition] Intel® Pentium® 4: at least 1.6GHz, at least 2.4GHz recommended
RAM
[HD Edition] Windows® XP: at least 1GB, Windows Vista®/Windows® 7: at least 2GB
[SD Edition] Windows® XP: at least 512MB, Windows Vista®/Windows® 7: at least 1GB
Others
Standard USB2.0 port, Installation of iTunes® is required for exporting to iTunes®, An Internet-accessible environment for uploading videos to YouTube™.
Note: Software for Macintosh is not included. The applicable software is required. The system requirements information above is not a guarantee that the provided software will work on all personal computers meeting those requirements.

One-Touch Sharing Button on the Camera
(except for GZ-MS110)
Some models are equipped with "UPLOAD/EXPORT" button on the main unit. When connected with a PC, press this button to start data conversion and upload the file to YouTube™ or export the file to your iTunes® library*.
* Installation of bundled software is required. Export is not available with some models.


Face Detection and Face Flow Thumbnail

Face Detection equipped on HD Everio has been upgraded. When shooting, it intelligently detects up to 16 faces then accurately adjusts the focus and exposure. It works for both video and digital stills. And while browsing through scenes in the Play mode, thumbnails can be displayed with close-ups of detected faces so you can easily identify who's in the file.


45x Dynamic Zoom

Standard Definition Everio features the Dynamic Zoom function which uses nearly all of the effective pixels of the CCD to achieve incredible magnification. You can enjoy up to 45x zoom without any degradation of picture quality.
Its high-quality lens is a KONICA MINOLTA LENS developed for Everio by the camera specialists.