HD Everio makes it easy to record "now" and enjoy "forever". This future-ready image quality is made possible by a combination of superior basic performance and enhanced enjoyment functions.


No Installation Disc – It's built into Everio*
Because it's built right into the Everio camera itself*, the new Everio MediaBrowser 3 can be installed directly on your PC right after connecting via USB. No CD required!

*Not available with some models. For details please refer to the comparison chart in Lineup page.
Easy-to-Use Integrated Software
Everio MediaBrowser 3 is high-value software that provides everything from viewing, data management, simple video/stills editing, as well as easy sharing functions, within a single application.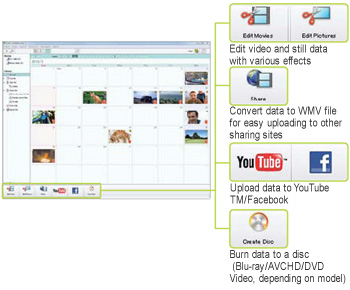 Quick Upload to Facebook/YouTube™
Share as soon as you shoot. Uploading to Facebook and YouTube™ is as easy as following just a few steps that are displayed on the screen.

Create with Easy Video and Still Editing
Everio MediaBrowser 3 lets you create full-fledged edited videos and pictures with ease. Edit video footage and stills into the same creation, spice it up with a music track, add captions, and so much more, with drag-and-drop ease!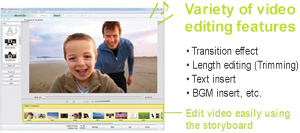 Full-fledged photo re-touch functions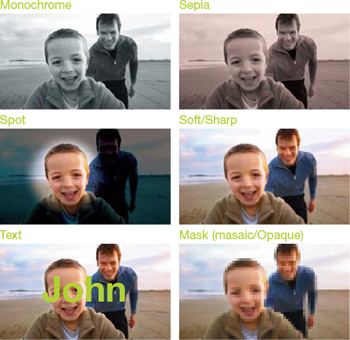 Software System Requirements (Windows®)
OS:
Microsoft® Windows® XP SP3, Home Edition/Professional (pre-installed)
Microsoft® Windows Vista® SP2,Home Basic/Home Premium (32-bit/64-bit,pre-installed)
Microsoft® Windows® 7,Home Premium (32-bit/64-bit,pre-installed)
CPU:
When using HD Video: Intel® Core

™

Duo 1.66GHz or higher (Intel® Core

™

2 Duo 2.13GHz or higher recommended),
Intel® Core

™

i7 2.53GHz or higher recommended for HD video editing
When using SD video: Intel® Pentium® 4 3GHz or higher (Intel® Pentium® D 3.0GHz or higher recommended),
Intel® Core

™

2 Quad 2.4GHz or higher recommended for SD video editing
RAM:
Windows® XP: 1GB or higher, Windows Vista®/Windows® 7: 2GB or higher
GPU:
Intel G965 (on-board VGA) or higher
Note: Software for Macintosh is not included. The applicable software is required. The system requirements information above is not a guarantee that the provided software will work on all personal computers meeting those requirements.


DVD Burner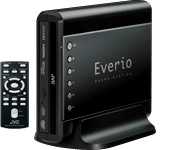 CU-VD50
Direct HD Burner/Player
• Can create AVCHD discs playable on other compatible players
• Playback directly on your TV/display
• HDMI®, Component (Y, Pb, Pr) output, Audio/Video output
• Remote control provided
• USB cable provided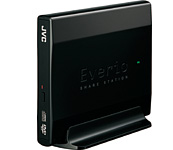 CU-VD3
Direct HD Burner
• Can create AVCHD discs playable on other compatible players
• Portable design with super slim drive
• Compact AC adapter
• Storable USB cable
Common Features

• Easy HD data disc creation without using a PC
• Direct connection with Everio via USB
• DVD burning operation can be controlled by Everio
• Uses DVD-R/-RW disc, DVD-R DL disc supported
• Can be used horizontally or vertically (Stand included)
*Footage recorded in the UXP mode cannot be stored to disc using the CU-VD50/VD3. Use the supplied
MediaBrowser software installed on your PC to store footage onto hard disk drive.